The worship experience at Forest City is an intimate one. We are a small, friendly congregation of mostly graying heads. Our service is traditional, but not formal. We use the organ and our service involves many responsive parts.
We believe that liturgy truly is "the work of the people" and that the service should not be a performance to be watched, but a time to be engaged.
Our sanctuary is located on the corner of Main and Vance streets, across from the Dollar General store. For people who have difficulty walking, the Dollar General parking lot is usually easiest to use. Our campus extends back behind the sanctuary and our parking lot entrance is off Vance Street.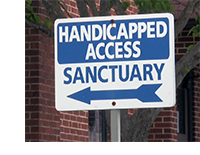 There are a few steps to our sanctuary, however we have a lift elevator inside the building. To use this, please come through either the back or the side office door.